The Decatur Municipal Planning Commission will meet at 11am on Monday, May 11th via Zoom conferencing.
The Decatur Board of Aldermen will not meet during May.
The Decatur Municipal Planning Commission and the Decatur Board of Aldermen have cancelled their regularly scheduled April meetings.
***PUBLIC NOTICE***
As part of the ongoing effort to minimize the spread of COVID-19, Mayor Bivens has taken the precautionary step to do our part to try to limit the spread of the virus by closing the Decatur Municipal Building lobby to the public effective March 19. A payment drop box will be added to the front door area to collect water/sewer payments, traffic citation payments, and property tax payments. Payments from this box will be collected by staff multiple times throughout the workday. This should only be used during office hours (8am – 4pm). The freestanding secure drop box on the south side of the building remains the best way to pay onsite after hours. We will also temporarily absorb the credit card processing fee that is associated with using credit/debit cards for water/sewer payments. This change will not affect any services that the town provides. We will adjust as needed to get all questions answered and services provided. Just give us a call at 423-334-5716 and we will do all that we can to continue the same level of service as usual. We will miss seeing our customers in person during this time, but feel that this is the best thing to do in order to provide you the safest opportunity to do business with our town. Thank you for you cooperation and take care! (attached is the notice on our door with payment options)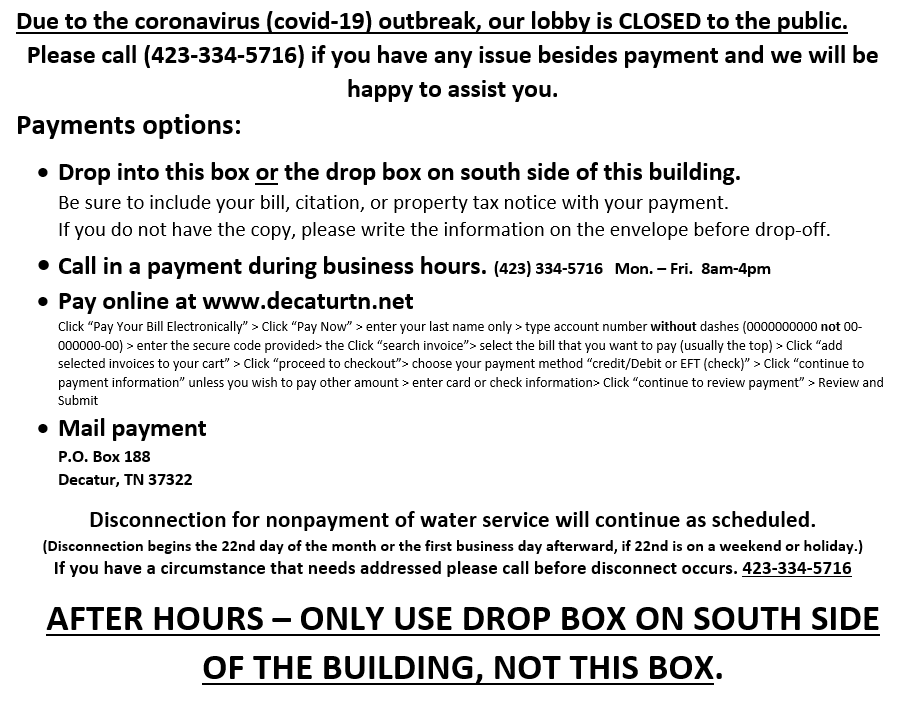 Public Notice: The Eaves Ferry boat ramp will be closed beginning Tuesday, November 12th for repairs. The length of closing is unknown at this time because of all the variables involved with the repairs.
Public Meetings, September 10, 2019, Decatur Municipal Building
Decatur Municipal Planning Commission – 6pm
Decatur Board of Aldermen – 7pm
The Town of Decatur has been awarded TDOT's Multimodal Access Grant and is looking to procure an engineer. See the link for more information. Please note that all firms must be pre-qualified with TDOT.

Please have all requested information submitted by August 30th, 2019.